A mobile app for a fictitious furniture company.
Role:

 UX, UI, and Visual Design  |  Prototyping  |  User Testing
A Designlab UX Academy course project
Style and price are important when it comes to shopping for furniture, but the thrill of getting a beautiful piece at a great price can turn into disappointment if it doesn't fit in your home. 
Heem is a new furniture shopping app that uses augmented reality to help people find the best furniture for their space. They're not the first furniture shopping app to use AR. But what sets them apart is their large catalog made possible through partnerships with top U.S. brands. With Heem, people can shop their favorite brands in one place.
The Challenge
In addition to allowing people to shop a catalog of furniture and view true-to-size AR pieces in their home, Heem wanted to explore other features that would further enhance the shopping experience.
The Solution
Heem has three main features. The Spaces tab lets users add the type of furniture they're shopping for and how much space they have for it in order to find the most compatible pieces for their space. Product Lookup makes it easy to get product information when shopping in store. And a simple interface with contextual help for first-time users was designed to ensure a smooth experience when users viewed products in their home with Try It Out.
Research
I talked to people about their needs and pain points when it comes to furniture shopping, either on or offline. Key takeaways:
"I usually like to see furniture in the store. I like to test it. I'd want to see if it's actually representative of what it looks like online."
Participants to do a
mix of online and in-person
furniture shopping. Detailed product information is a must if they're going to make a purchase online. For larger or more expensive items such as a couch, they prefer to shop in store.
"The first thing I look at is the dimensions. We have limited space and that's the most important thing – that a piece of furniture fits appropriately in a spot."
When shopping for furniture online, they're most concerned about whether a piece
will fit in their space
and if it will meet their expectations as far as size, color or quality.
"I don't deal with salespeople."
When buying furniture in person, it can be a
hassle to find and talk to a salesperson
to get more information on a product or purchase and set up delivery.
Defining the User: The Hands-on Shopper
Amy is big on the tactile nature of the in-store shopping experience, though she will do research online prior to going to the store or even at the store. She's saving up to upgrade her furniture from particle-board college pieces to pieces that are more grown-up, chic, and will stand the test of time.
Enhancing the Online and Offline Furniture Shopping Experience
Based on the insights from my research, I realized it was important to consider how the app could not only help people when they shop at home, but also when they shop in the store. Ideation revolved around how Heem could help users make informed decisions to buy confidently wherever they shop. 
I tested low fidelity prototypes with users early in the process in order to improve and streamline the interface and flows of the following features.
Add Space Measurements
In the Spaces tab, users can add a Space to help them find pieces that are sure to fit in their room. Each Space entry consists of what they are shopping for and the measurements of the area where this piece will go. Then they can browse on the app for furniture that fits the dimensions they specify. Or, anytime they scan this type of product in the store, the dimensions will be compared to the measurements of their space and they will be able to see if it will (or won't) fit.
Product Lookup
Users can scan products in any partner store to bring up more information such as reviews, product availability and dimensions. If they scan a product that they've added a Space for, a notification next to the product dimensions will show if it will fit in their space. They can also see options for customization such as color or materials, view them as an AR overlay on the product, and see how those options would affect the overall price. 
Try Out Furniture in AR
The
Try It Out
 feature allows users to view products in their home in AR to see how they will look and fit in their space. They also have the ability to add multiple items to a room. Since AR apps are still relatively new to consumers (as of this writing in 2017), it was important to include visual cues and icons along with text instructions to help guide first-time users.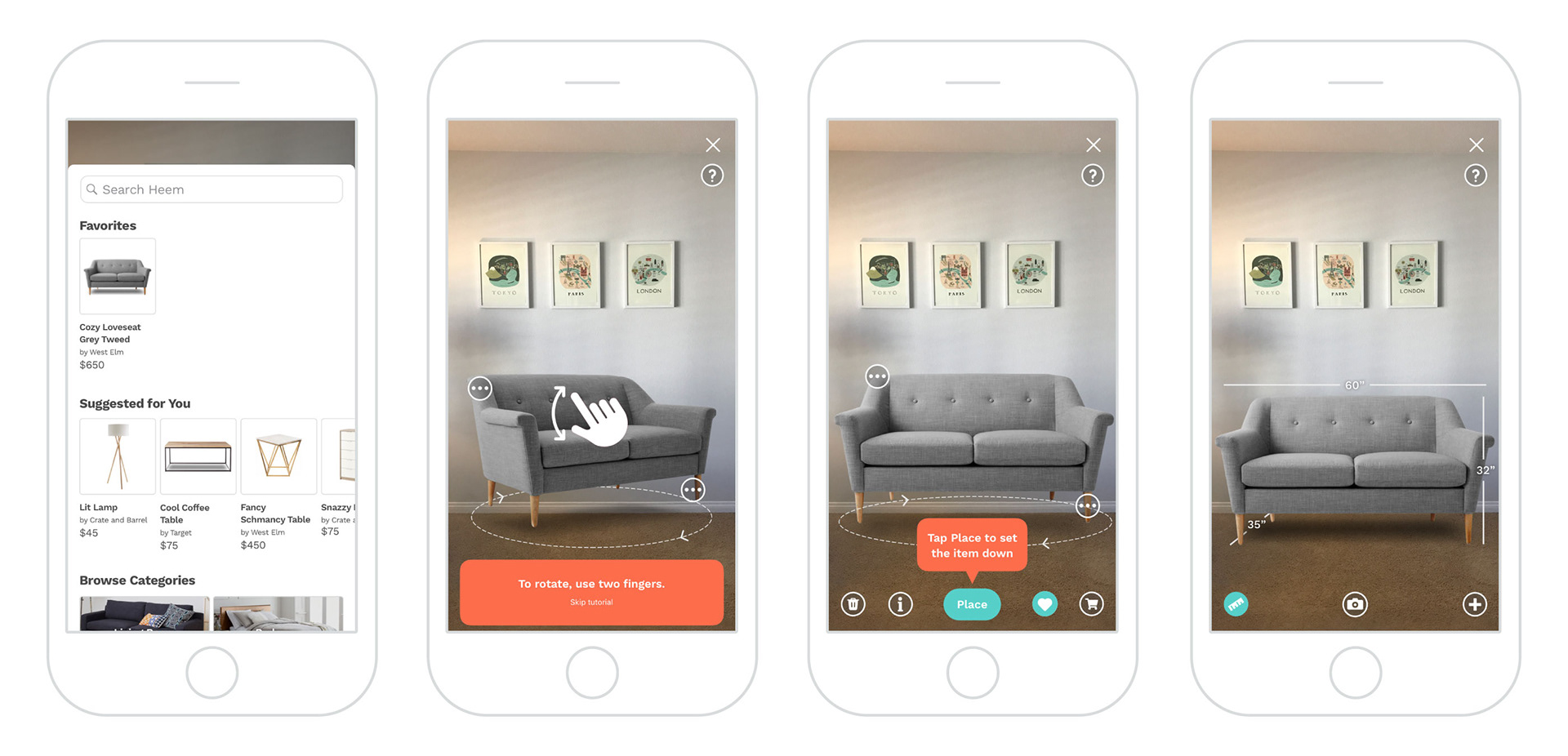 Logo and Style Tile
The brand is relaxed and warm, cheerful and welcoming, so people don't feel intimidated by the technology. The bright color palette is balanced by clean layouts and typography.
I wanted the logo to simply convey that this is a furniture company and also hint at the 3D/AR technology of the app. The chair icon combines the tech/furniture concepts, with a subtle 'h' incorporated.
Next Steps

• Design browsing and checkout flows

• Conduct further user testing on high fidelity prototype to find more areas to improve the user flow and clarity of the UI