Adding a new feature to an existing app.
Role:

UX/UI Design  |  Prototyping  |  User Testing
A Designlab UX Academy course project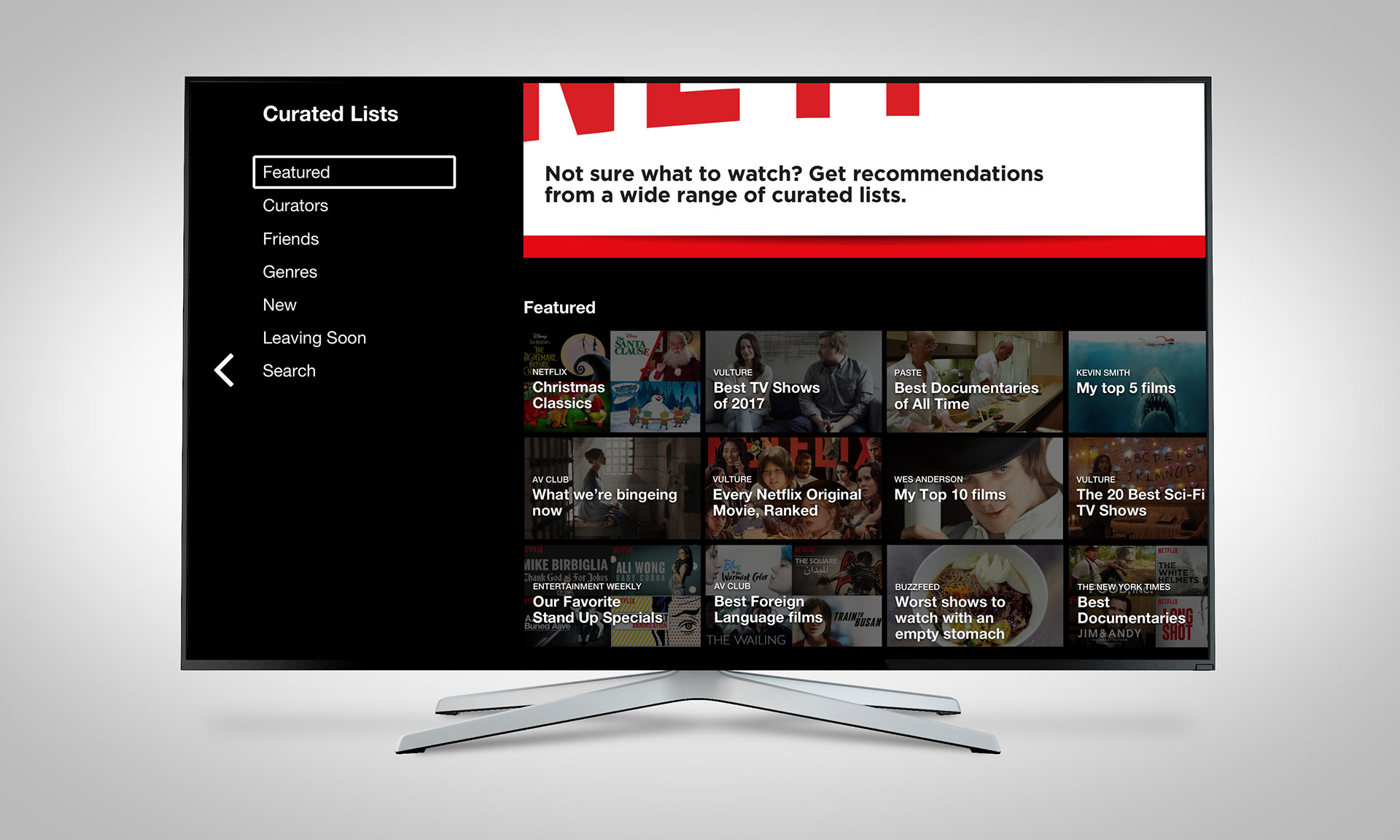 Netflix is a subscription streaming service that allows people to watch a wide variety of content including movies, documentaries, TV shows and original programming. In order to gain and retain subscribers, they were looking to improve engagement and discoverability of content on the app.
The Challenge
Supplement Netflix's algorithmic suggestions with a social feature that is seamlessly integrated into the existing interface.
The Solution
The new features help narrow down Netflix's exhaustive catalog so users can spend less time browsing and more time watching. Users can browse through curated lists of recommendations from experts and friends right in the app. Lists can be made collaborative, so friends can easily share recommendations and stay in the loop about the best things to watch on Netflix.
I spoke with casual and avid Netflix users to gain insights into how they currently use the app and what pain points they experienced. I also conducted a survey to gather quantitative data about how people share and discover content on Netflix. Some key insights:
"The choices are too overwhelming...I always get lost and then I give up."
Browsing
is the most frustrating part about Netflix for the majority of participants. They felt the categorization of content could sometimes be confusing or odd, and suggested titles often seemed random. Most of them avoid browsing, and usually log on already knowing what they want to watch.
"I don't want to waste my time on something that might be crap."
Defining the User: The Entertainment Aficionado
The persona is based on three of my interviewees that overlapped in several behavior variables. Adam almost always has something in mind to watch when he uses Netflix, whether it's something he read about on one of his favorite websites or a recommendation from a coworker. He rarely browses to find something new to watch because he finds it overwhelming. He's also wary of the algorithmic suggestions because they are inconsistent in quality and he doesn't find the match scores very helpful.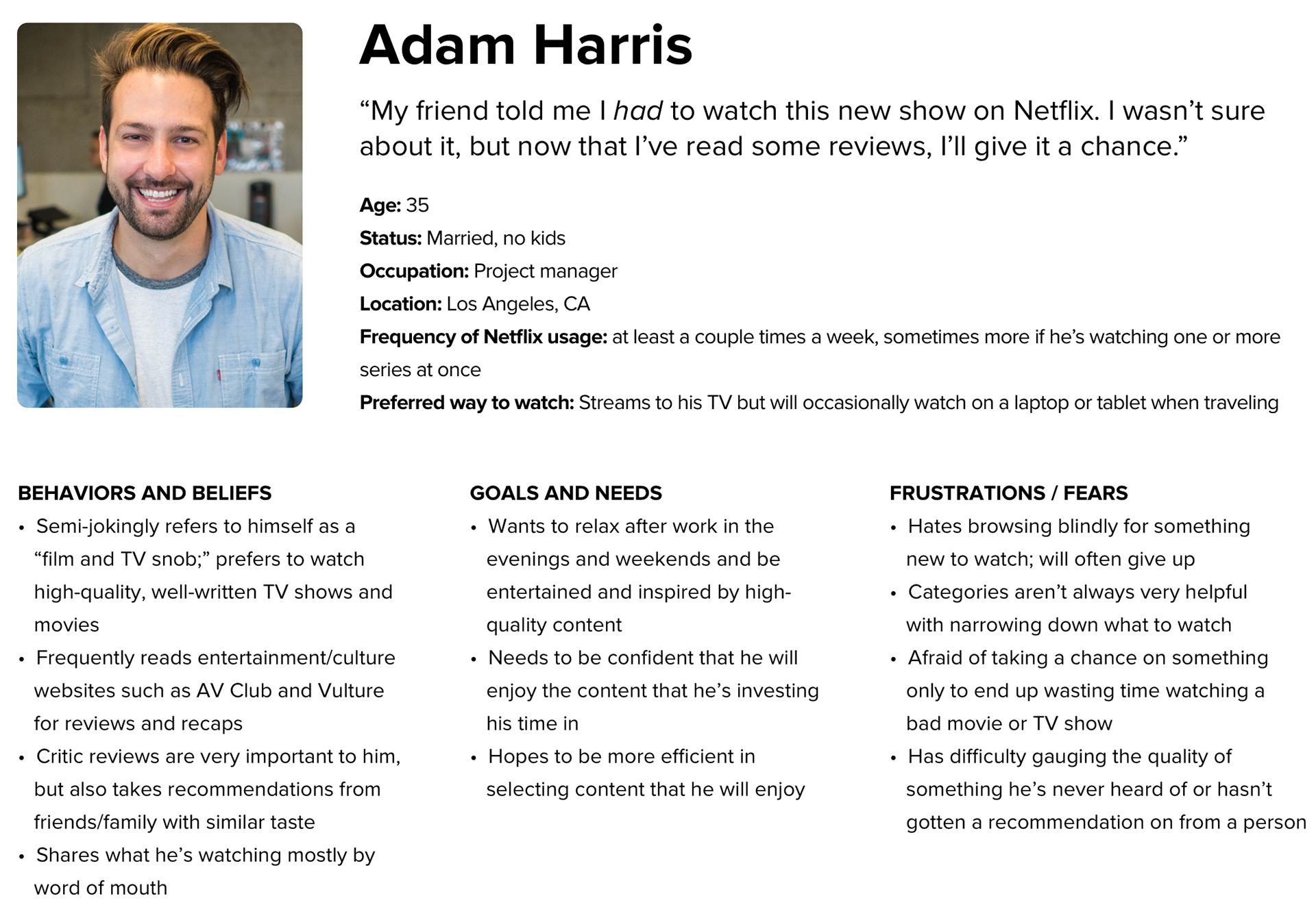 Creating a Better Browsing Experience
Users seek high-quality content recommendations from third-party sources to help them narrow down what to watch. So how might we integrate recommendations from actual humans for a more efficient browsing and content discovery experience?
Curated Lists
Put together by experts and Netflix members, users can browse through curated content without having to leave the app.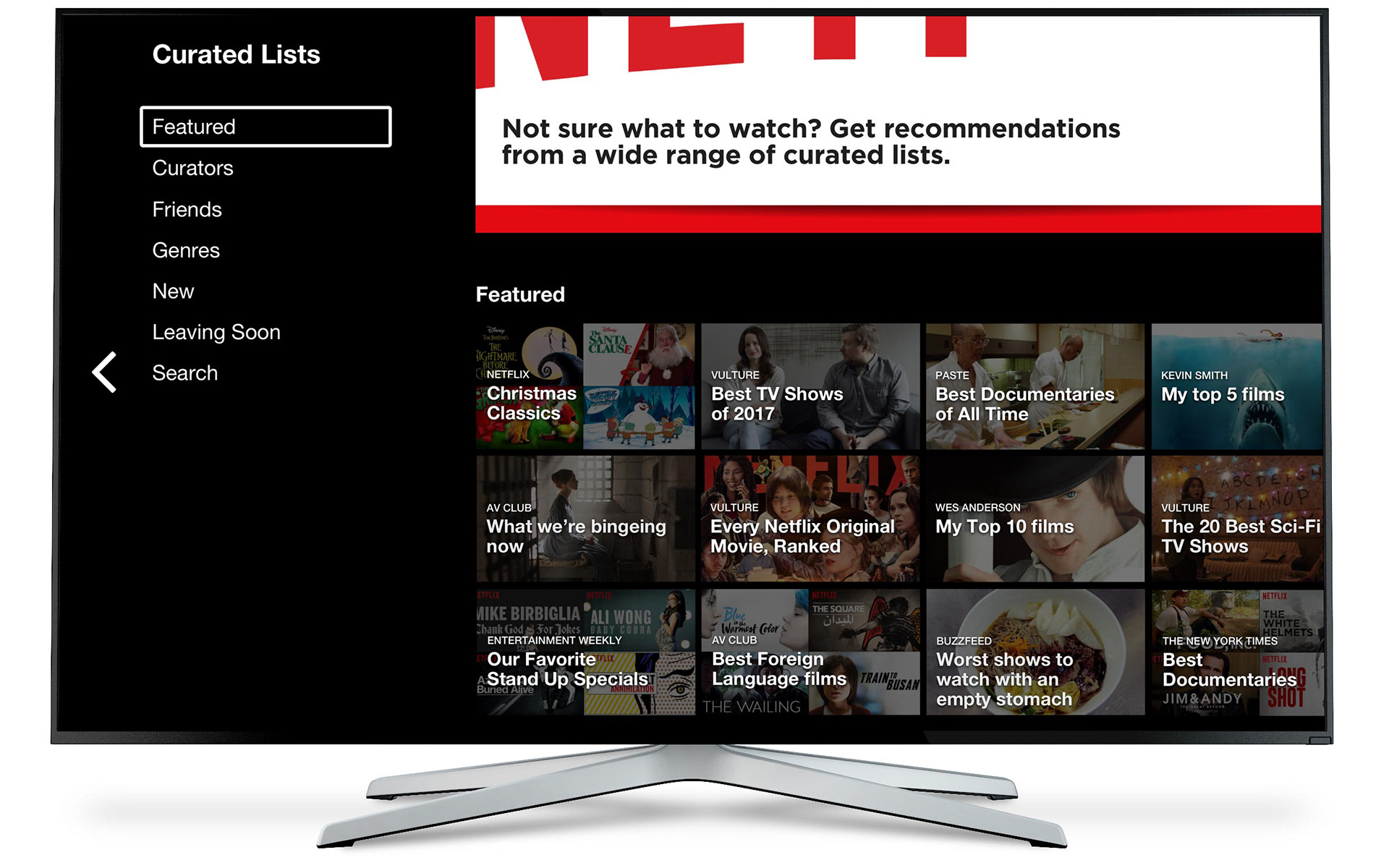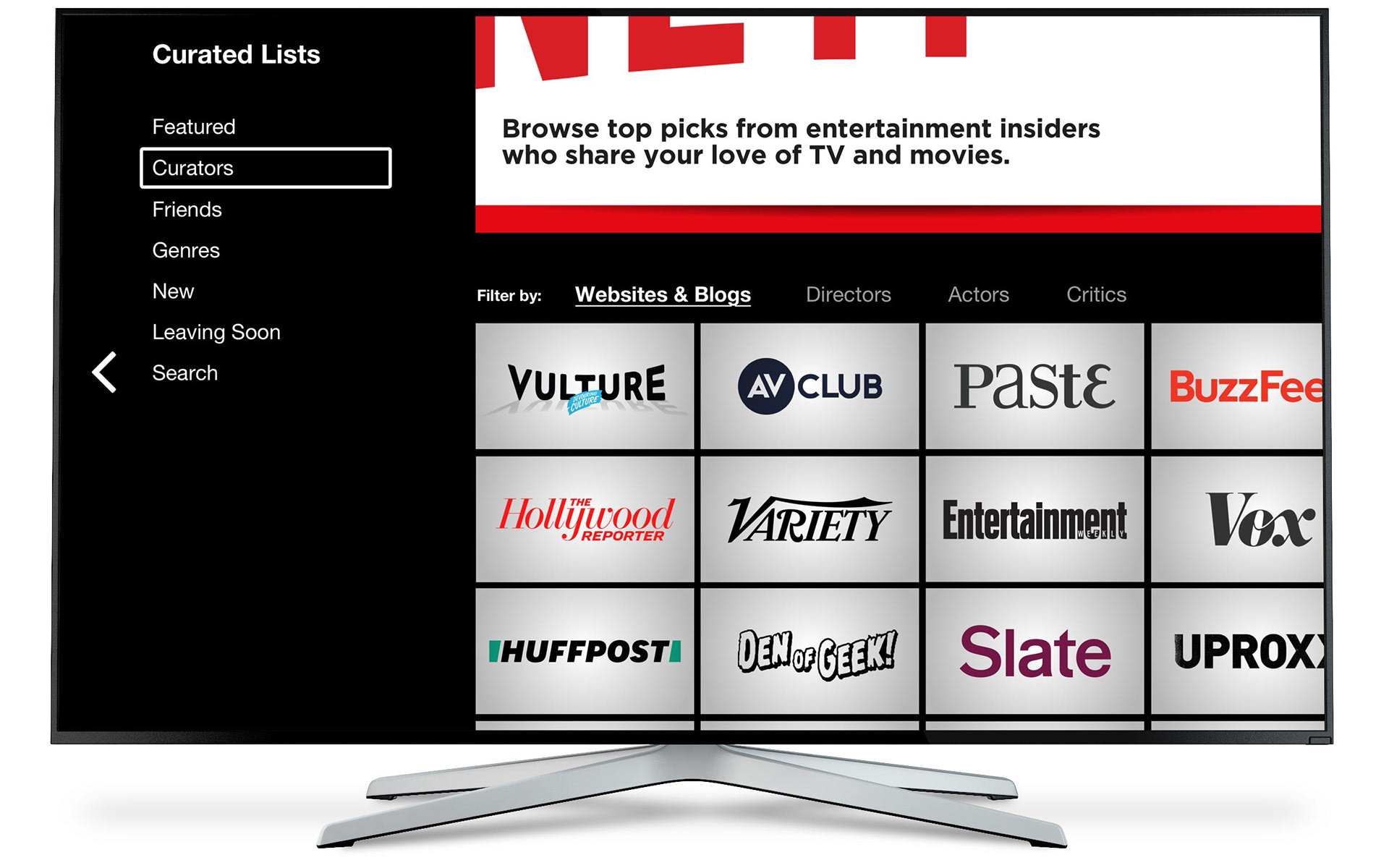 Users can follow lists to refer back to them later and see when new titles are added.

Collaborative Lists
Curated lists can be made collaborative
, enabling users to invite friends to view and add titles.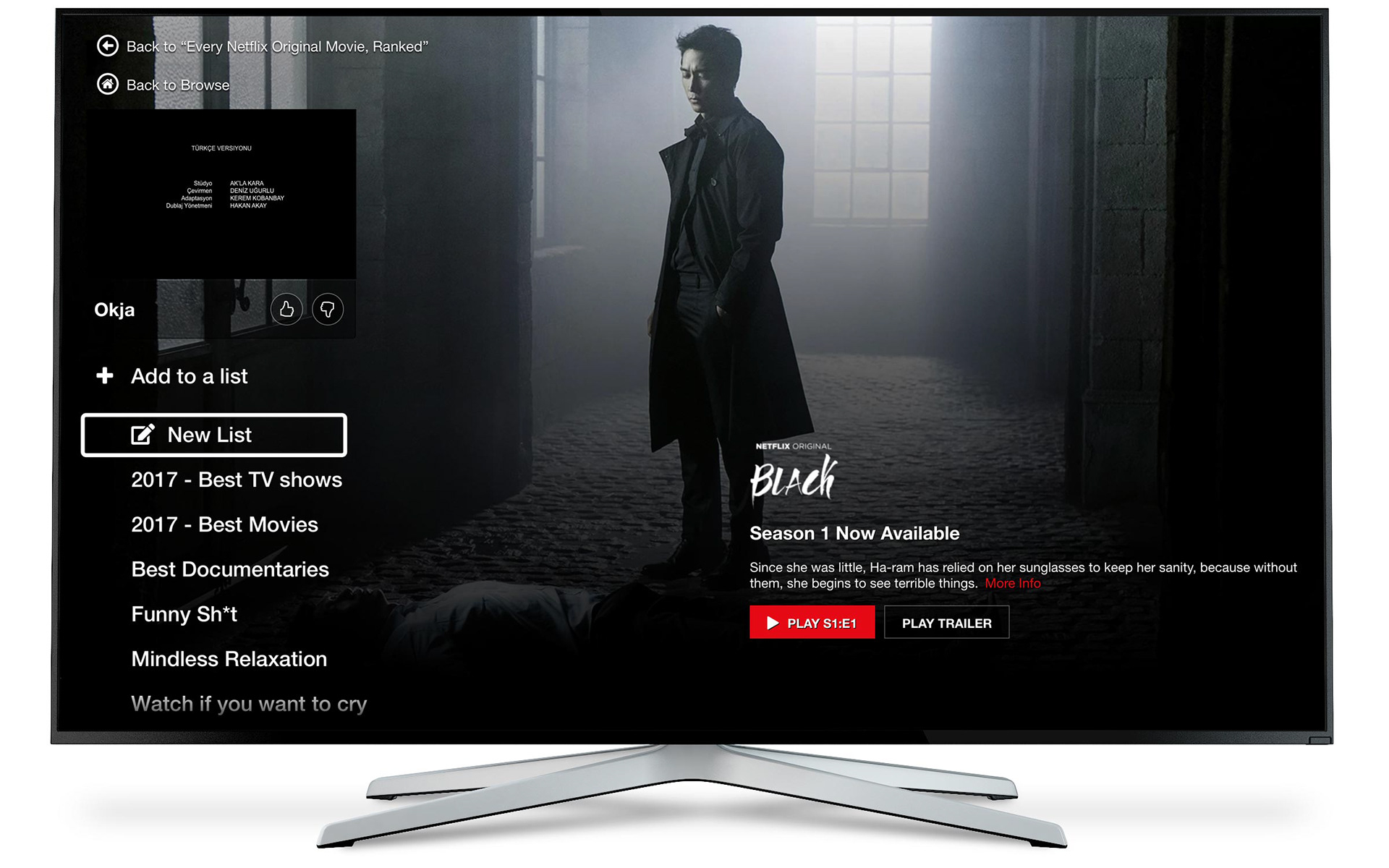 During testing of low-fidelity wireframes, the new list flow was the most common point where errors occurred due to extra confirmation screens that confused users. I worked on reducing the amount of steps and clarifying the copy and flow before conducting another round of testing with the high-fidelity prototype.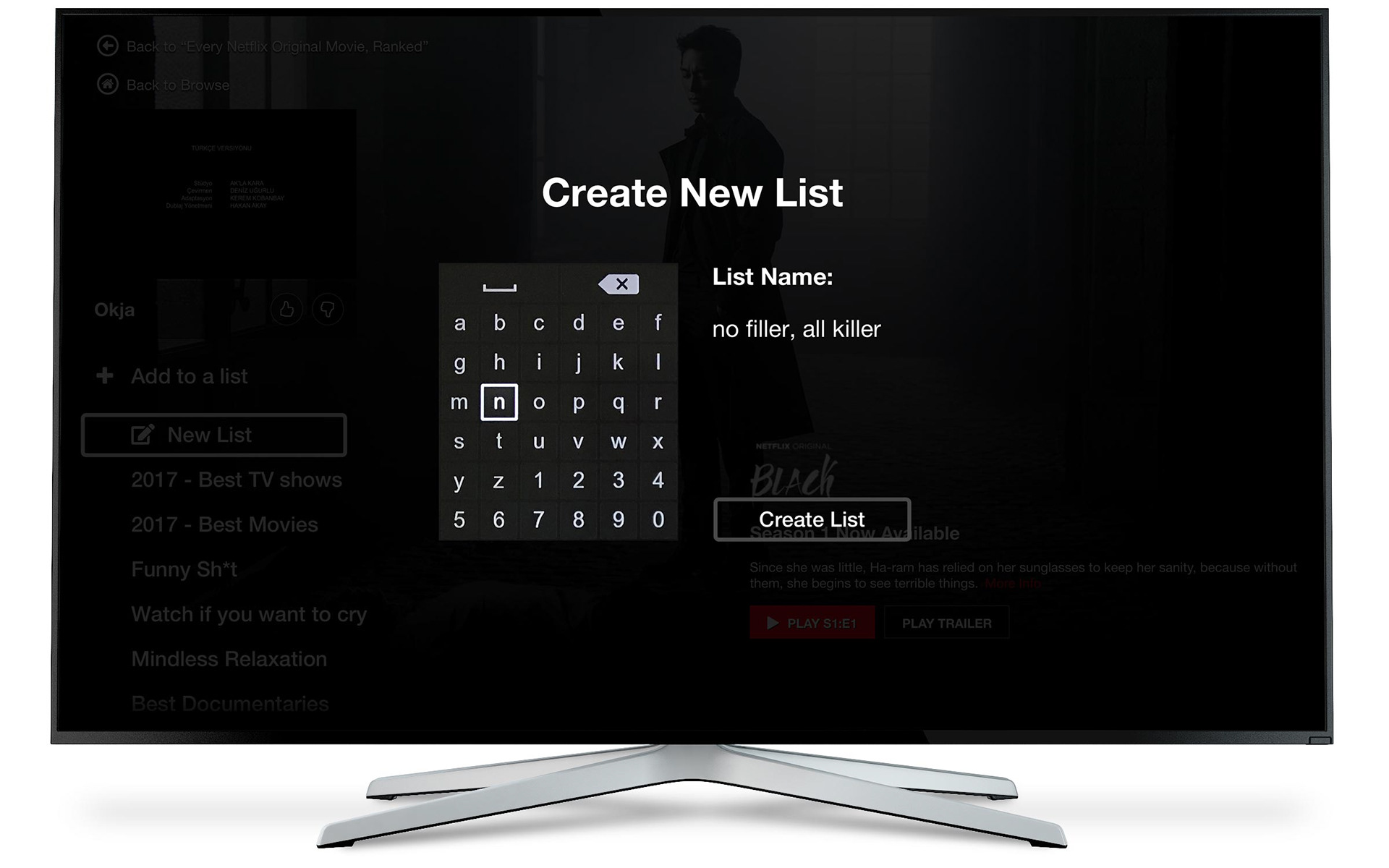 When the user creates a new list, they have the option to make the list public (lists are private by default) and also to invite friends to collaborate on the list. It was important to make the sharing feature as opt-in as possible so that
1)
users wouldn't inadvertently share viewed titles that they'd rather keep private and
2)
users wouldn't annoy others with a firehose of unwanted content.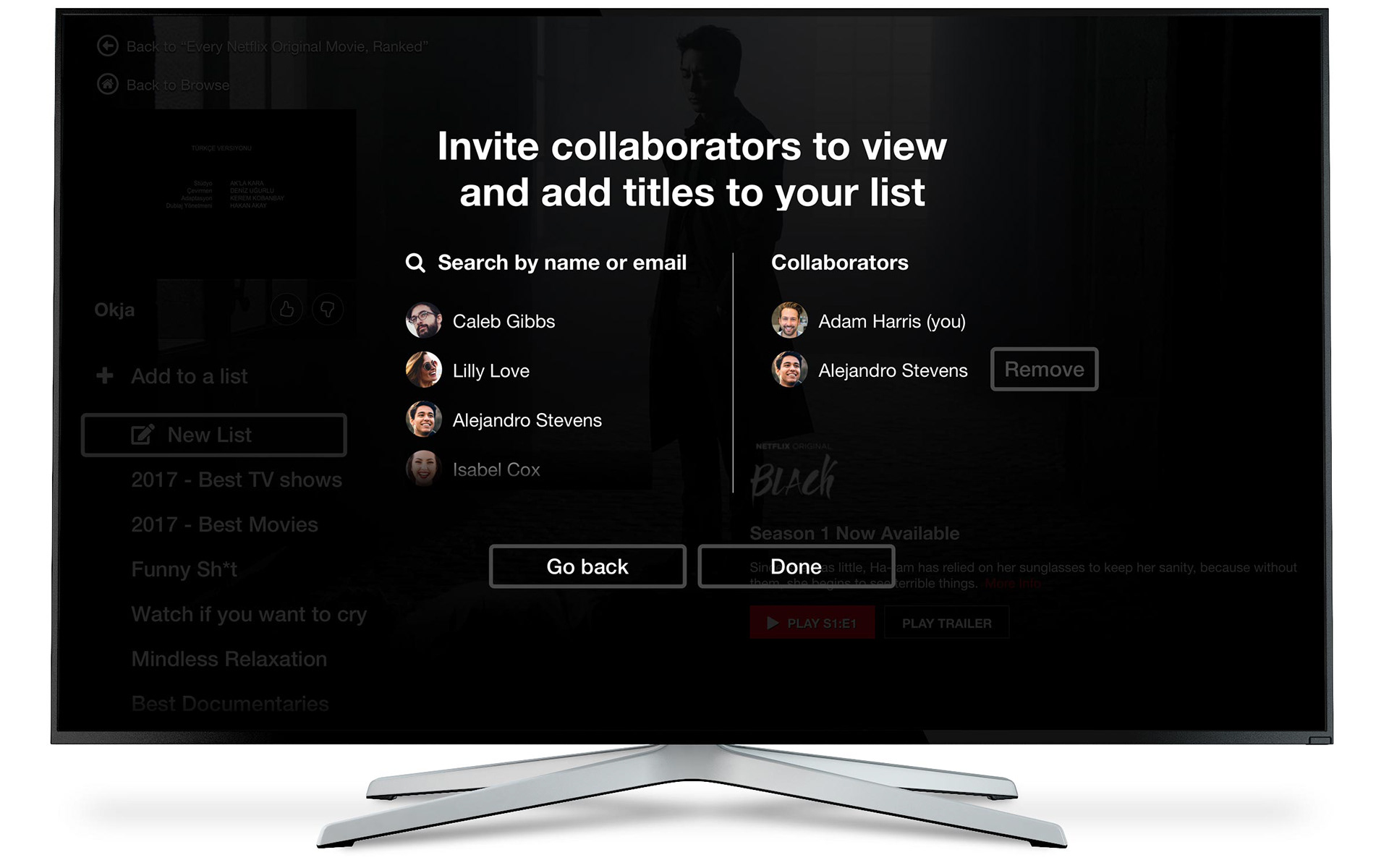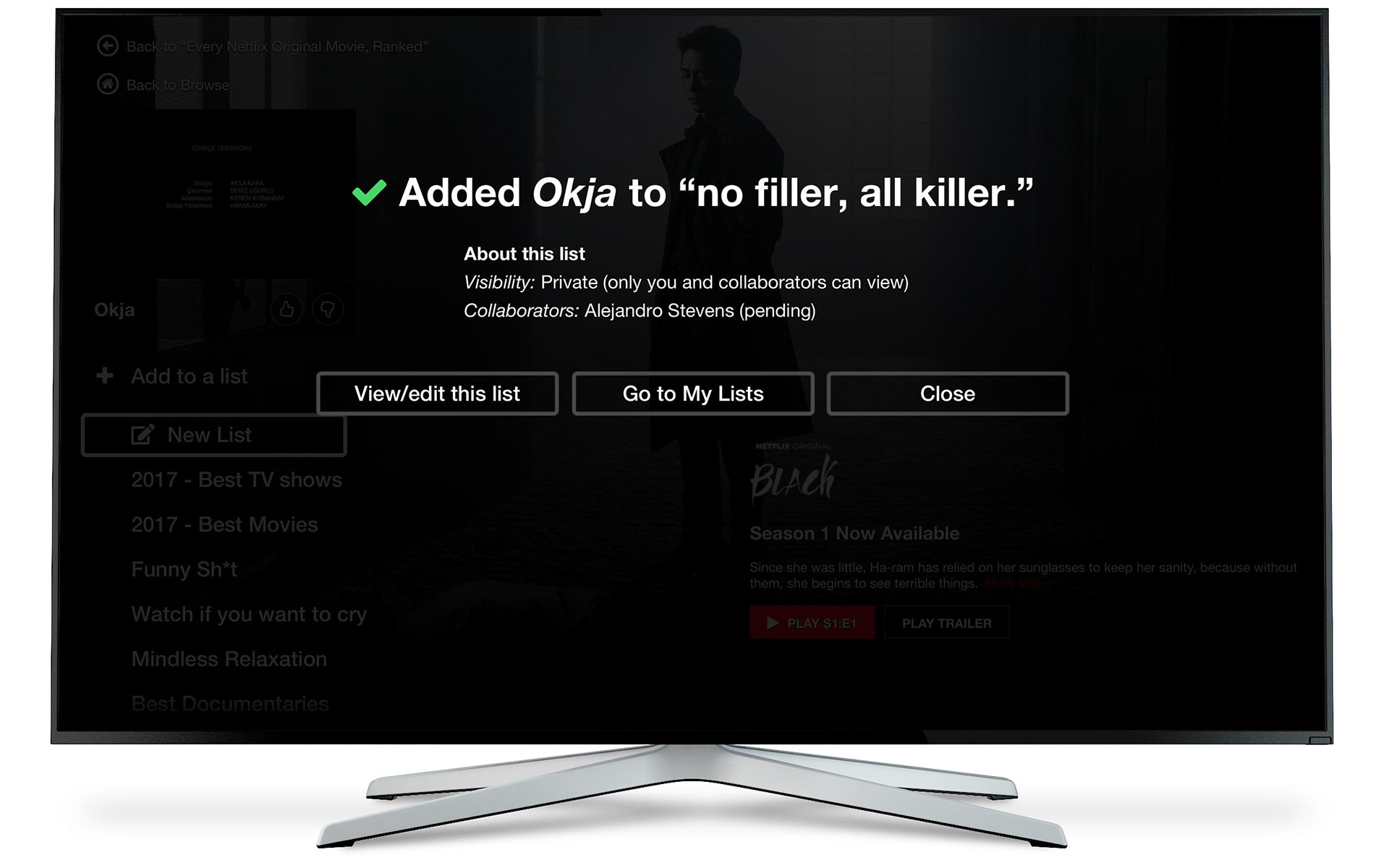 My Lists
This is where the user can go to view titles they've saved to watch later, lists they're following or collaborating on, and to accept or ignore invites to collaborate on lists.
The current Netflix UI has a side navigation for certain screens such as the one to browse through categories, but there isn't a way to sort or filter content. To address this, I added simple, clear text links above the content so users could further narrow down their selection.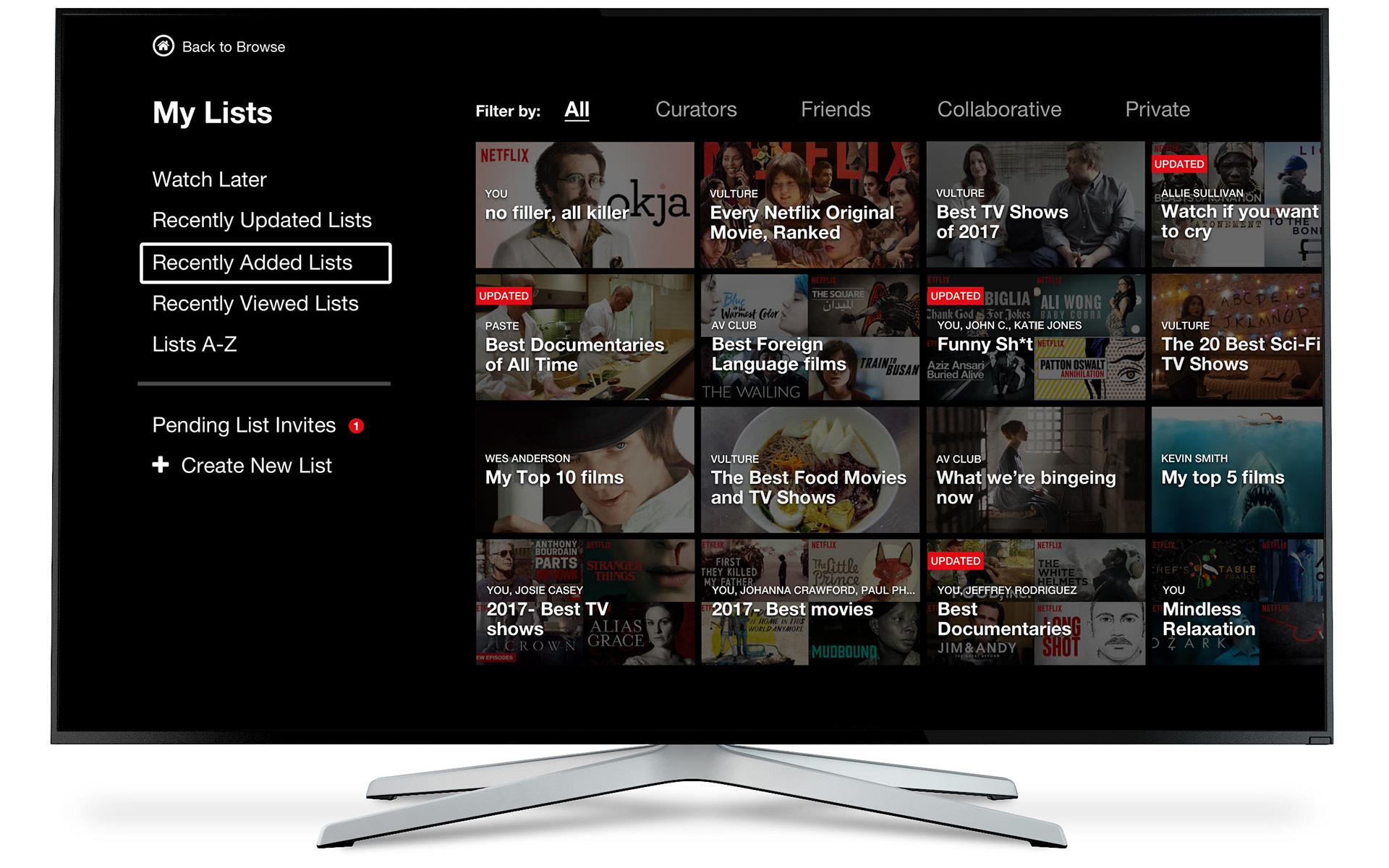 Updating the Navigation to Accommodate the New Features
There isn't a fixed top navigation on the streaming device app — features such as search, categories, and settings are hidden above the spotlight content. To work around this, I incorporated the navigation for My Lists and Curated Lists directly onto the main browsing screen as their own rows. This allows the user to have quick and easy access to the sources of content recommendation.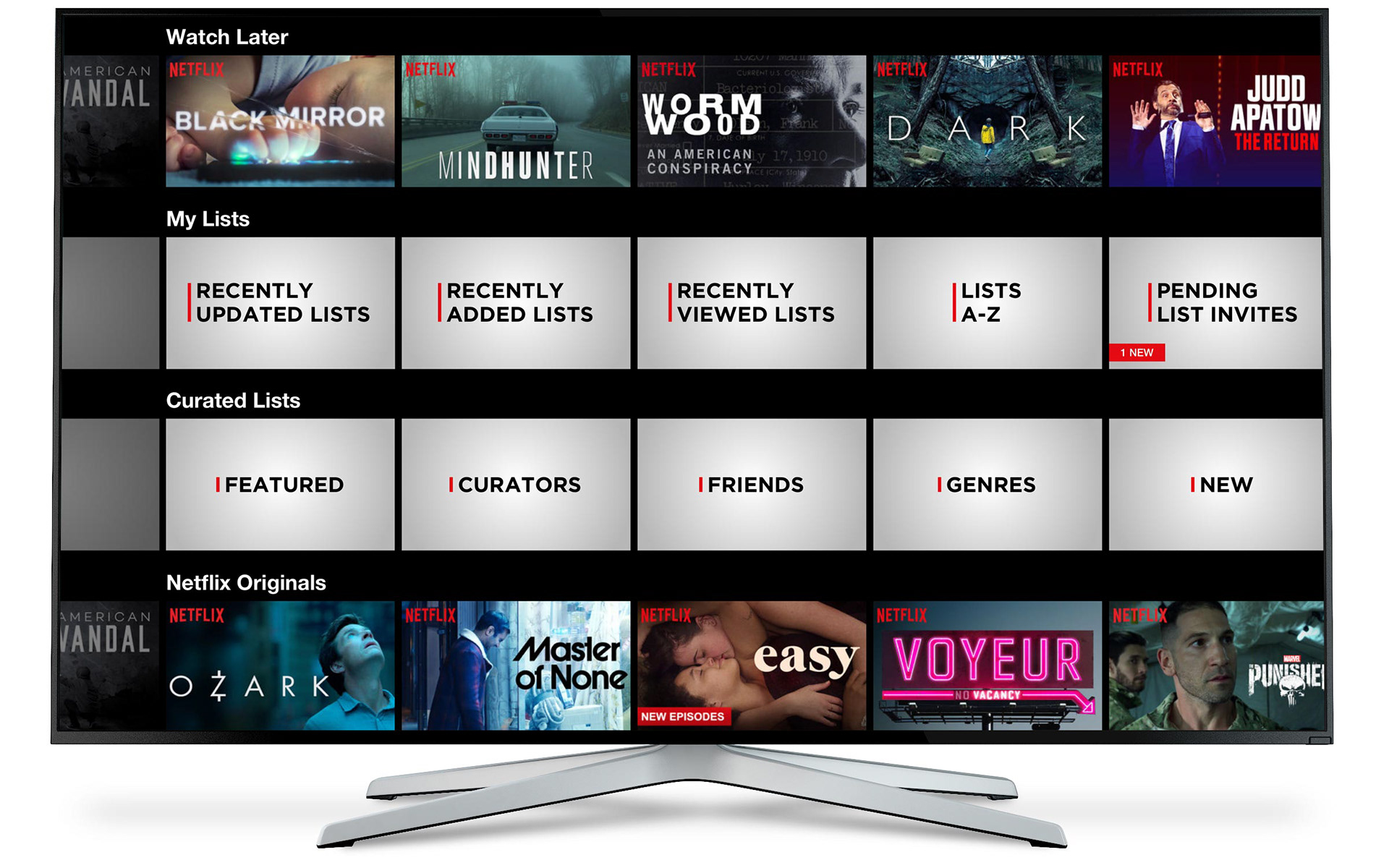 Next Steps
• Design Friends tab in Curated Lists section 
• Design Pending List Invites tab in My Lists section
• Design experience for other platforms - desktop, mobile and tablet